A. MASSAGE TREATMENTS
Actual therapy duration:1hr; wardrobe change /shower/steam or petals bath /snack:1hr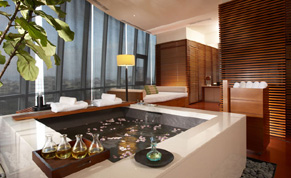 TRAVELER'S PERK-Jetlag Recovery Massage 2hr/NT$4,500
Ancient Indonesian technique developed to reduce mental stress and physical tension.
PRIDE OF THE ISLANDS 2hr/NT$4,500
Combing various massage techniques from Hawaii, the firm and steady pressing releases pressure and restores vibrancy.
EARTHLY GEMS-Warm Stone Massage 2hr/NT$4,500
Volcanic stones tap into the body's energy points for deep healing.
LIBERATION-Deep Tissue Massage 2hr/NT$4,500
Focuses on realigning deeper layers of muscles and connective tissue
ORIENTAL BODYWORK-Dry Massage (Ladies Only) 2hr/NT$4,500
Sublime workout for the body blends both traditional Chinese and Thai methods.
THE REJUVENATOR- Chinese Tuina Massage 2hr/NT$4,500
Alleviating sports injuries by improving energy flow and bold circulation.

All prices are subject to a 10% service charge.