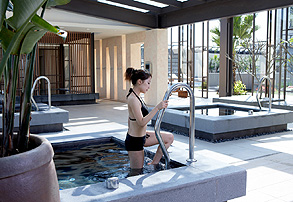 The club is situated at the Sky Garden (6th floor) with an area of nearly 64,800 square feet. Club LeFoon features indoor and outdoor swimming pools, leisure water facilities, sauna, fitness room, and a multi-function room for guests to fully enjoy a stress-free holiday.


Service hour:07:00-23:00
Service line:886-3-935-8800
The outdoor swimming pool opens between April to October and will be temporarily closed from 9 p.m. through 11 p.m. in July and August due to maintenance.
Hotel guests may use the health club facilities free of charge.