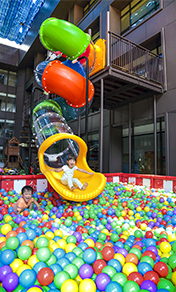 Located on the 8th floor, Fantasy Castle is an open-air arena dedicated to kids' fun and games, including large slide" Rainbow", fancy rotating slide, bounce bee "Do Do", electric cars, driving school, and Oh Woo Oh House. All hotel guests are welcome to experience plenty of kid's equipment and activities at the Fantasy Castle.

Play Equipment and Safety Rule

Service hour:09:00-11:00,15:00-20:30
Service line:886-3-935-8800
Fantasy Castle will be closed under bad weather condition.