Silks Place Yilan Offers Room Guests Complimentary Volkswagen Vehicles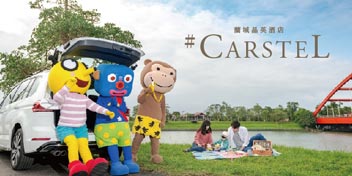 "Carstel" is an innovative word consisting of car's plurals and hotel's suffixes. It represents the idea that the hotel provides a large variety of vehicles for the guests and it writes a new definition for travel. In the hotel, children can drive electric cars around the Fantasy Castle and the racing corridor. Silks Place Yilan also provides Play Station® for adults and children.

From now on, the hotel provides the adults with a safe and comfortable Volkswagen motors to enjoy the self-driving traveling pleasure. We will give the residents a new and unique experience. This is an extended driving experience of Fantasy Castle as the entire Yilan is like an adult's Fantasy Castle. Both adults and children have their own vehicle as a part of the hotel experience.

Applicable for :
- The package is applicable for room guests stay 2 and above consecutive nights at eligible rate

Details:
- Front desk would issue "#carstel card" to applicable room guests. Room guests for staying for four could choose Touran, Golf or Beetle and room guests staying for two could choose Golf or Beetle.
- Self-driving Volkswagen period is not available on the first check-in day and the last check-out day.
- The gasoline for driving within 100km per room is free. The surcharge of NT$200 of every 100km would be applied for exceeding 100 km per room.
- #carstel service hour from 09:00 to 21:00. Access to take car time by 19:00 at the latest. Room guest should return car by 21:00 on the day.
- Kindly remind that room guest have to prepare : Driver license, personal ID card with photo, credit card ( pre-hold NT$20,000 is required) , #carstel card and mobile phone reachable in Taiwan. National driver license is must for foreigner.


Remarks :
- Volkswagen vehicles availability is based on the inventory on site.
- The hotel reserves the right to decline room guests if any unqualified condition.